For me, one of the most thrilling moments of spring is the sight and sound of swifts returning to our skies. Following an epic and often hazardous journey of up to 6,000 miles, common swifts normally arrive here in late April. But in the spring of 2019, they were noticeably and worryingly late, and I wasn't the only one to miss them; the RSPB has received numerous calls from members of the public concerned by their absence.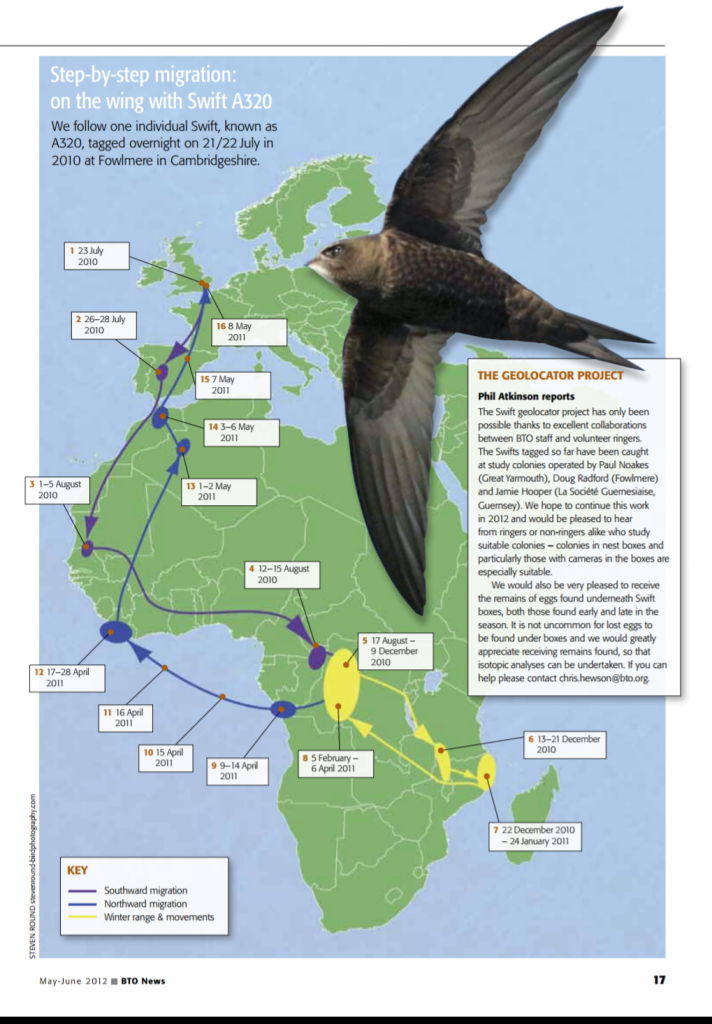 The delay was caused by serious and unseasonal climatic changes faced by the birds when they arrived in Europe earlier this year, with many being killed by storms and cold, wet weather. With low temperatures and rain suppressing the numbers of flying insects which make up the birds' diet, and predominantly northerly winds making flying even more arduous, there have been distressing stories of swifts trying to survive overnight by clinging to each other on walls in an effort to avoid the wind and rain.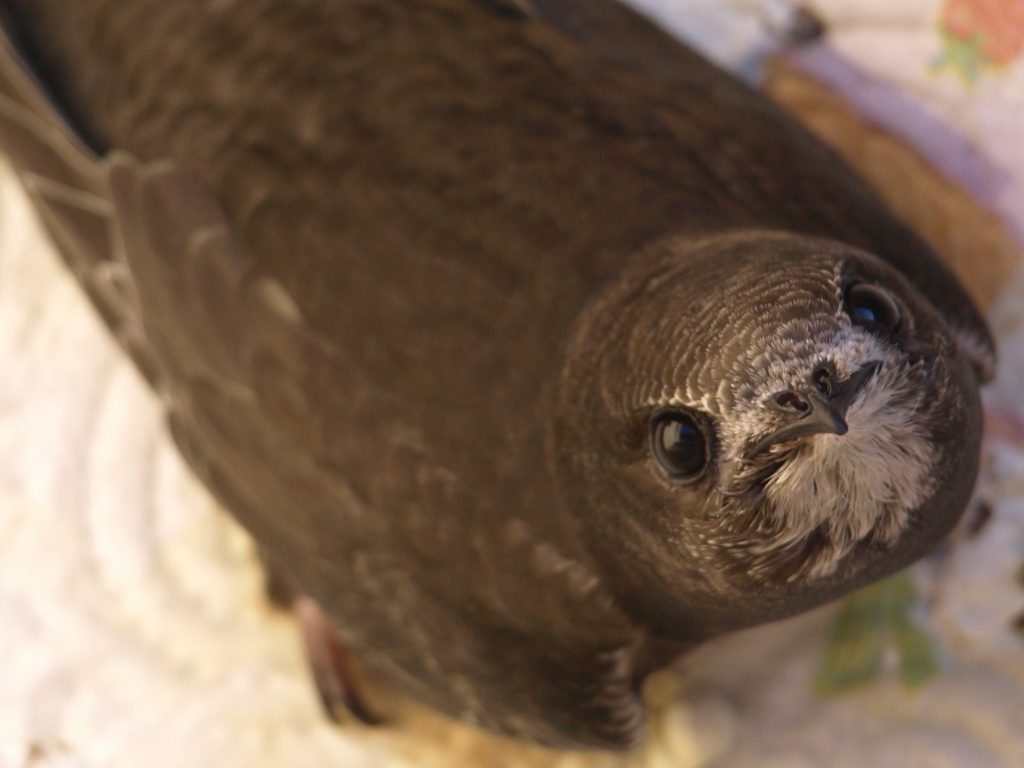 For those that do reach the UK, their problems are still not over. Besides the massive drop in numbers of their foodstuff due largely to the spraying of insecticides on arable crops, and unfavourable weather linked to climate change, loss of habitat is a major factor in the birds' dramatic decline. Swifts abandoned their cave and cliffside nest sites hundreds of years ago in favour of the nooks and crannies provided by man-made homes and buildings, making nest sites which they use year on year. However, with the demolition of old buildings, or their repair and refurbishment being carried out to modern standards with roofs and walls being sealed up, many of their habitual nesting sites have gone. Moreover, new-build homes are routinely constructed using techniques and materials which deny the swifts access to breed. After their exhausting journey, swifts have neither the energy nor the time to search for a new nest site.

But we can do something to help.

By installing a nest box (or preferably more – swifts are gregarious and like to nest in close proximity to each other) in a shady spot at least 5 metres from the ground, you will be providing a much-needed lifeline for these birds. You could also play a swift calls CD to attract them in, but be prepared to wait for a while for the birds get to know your nest is there before they take up residence. If you are undertaking any new building work, there is also the option of using 'swift bricks', which are easily installed and have hollow interiors for the birds to nest in. Take a look at the "Ideal Sites for Swifts" and "Fitting Swift Nest-Places" pages on the Swift Conservation website for more detailed information. Swifts make very little mess: the parent birds eat most of the chicks' droppings (it's thought they do this to recycle the mineral content) and consequently there are no great piles of droppings beneath their nests.
Since July 2017, North Wales Wildlife Trust have run a project called 'A Swift Recovery' in order to help swift populations by installing nest boxes at suitable sites and by gathering data on swift colonies, for which they rely hugely on members of the public. They are particularly interested in sightings of potential nesting behaviour, indicated either by a 'screaming party' – groups of screeching swifts flying at low level, 'prospecting' birds which fly in to inspect buildings, where they can sometimes be seen clinging to walls below the eaves, or actual 'nesting attempts', where the birds can be seen entering through cracks under the eaves or other opening. They are also interested in receiving records of young swifts found on the ground (dead or alive), with details of exact location; if it is an indication of prospecting or nesting attempt activity, this could potentially be useful information for future nest box sites. You can record your sightings on the Cofnod website, to join the 874 already recorded since the project's inception.
Swift Awareness Week takes place across the UK from Saturday 22nd to Sunday 30th June 2019, where you can get out, enjoy the swifts that have made it back this year and learn how you can help to boost their numbers. There are various events taking place during the week in North Wales (details below), giving people the opportunity to survey swift sites in a particular location before meeting later to compare notes over an optional 'swift half'!
Sunday 23rd: Menai Bridge – 7.30 pm in Waen car park off the High Street (LL59 5EF)
Tuesday 25th: Dolgellau – 7.00 pm in the Royal Ship Hotel (LL40 1AR)
Tuesday 25th: Llangefni – 7.30 pm in the Dingle Car Park (LL77 7EB)
Thursday 27th: Bethesda – 7.30 pm at Llys Dafydd, off High Street (LL57 3AN)
Friday 28th: Holyhead – 7.30 pm for talk and 8.30 pm for survey at Ucheldre Centre (LL65 1TE)
These amazing birds, which are related to the humming bird, are very probably one of the oldest forms of bird living today, and are the fastest in level flight – recorded at reaching speeds of 69.3 mph, they are beaten only by the headlong 'stoop' of the peregrine falcon. Supreme aerialists, they feed, drink, mate and even sleep on the wing, landing only at their nest sites. Sexually immature swifts might not land for two to three years after fledging, and an 18 year old tagged swift was found to have clocked up a flying distance of 4 million miles, equivalent to 110 times around the world, or 8 times to the moon and back!
It is imperative that we do all we can to halt the catastrophic decline in the numbers of this most enigmatic of birds. By taking steps to improve our outside spaces by creating or improving habitats for swifts, we can make a positive contribution towards their survival, to ensure that the drama, excitement and wonder they bring us will never be lost from our skies.
Thank you to Elizabeth Cotton, lifelong friend and bird enthusiast, for sending me photographs and information about swifts, a bird she has a particular interest in. She lives and works in Genoa and runs the Facebook page LIPU sezione di Genova, for Italian wildlife conservation group LIPU, the Italian partner of Bird Life International (birdlife.org). She raised and released the juvenile swift in the photograph from her home in Genoa. Thanks also to Roy Tapping of Cofnod and Ben Stammers of North Wales Wildlife Trust for their help and information. Main photograph courtesy of Swift Conservation.

Please follow and like us: