Today is the first of September, and it's brought with it a good drying day. Cobwebs and bed sheets fly in the wind as fleets of cumulus clouds billow in full sail across the blue of a fresh-washed sky.
I've been out gathering apples from the tree to join those already collected, the heady, intoxicating smell of the fruit escaping the box as I lift the lid. For the past few years our apples have largely gone to waste, so later this month we are taking them to an 'Apple Day' at the Woodland Skills Centre in Bodfari to use their fruit presses and have a go at making our own cider from the yield. This award winning site, down a country lane off the Mold-Denbigh Road, has a heritage orchard set within 10 acres of their of their 50 acre woodland, which also includes an arboretum, a vineyard, allotments, a medicinal herb garden, wildflower meadows, an apiary, polytunnels, and a tree nursery.

Cider production might not be the first thing that springs to mind when considering what North Wales has to offer, but among the soaring mountains, rolling hills and glittering seascapes, that's exactly what you'll find. From ciders made from just one or two apple varieties, to those which are a blend of many, all are lovingly crafted, using methods and techniques, and of course, fruit, peculiar to the individual artisan, ensuring that each one has its own distinct personality.
With this in mind, I decided to discover a little more about the producers here in North East Wales…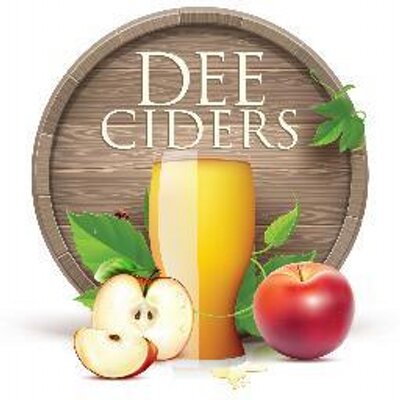 Dee Ciders in Flintshire is run by father and son team, Richard and Scott Johnson. On his retirement back in 2010, Richard had a cherished dream of whiling away his quieter years with small-scale cider making, and planted some apple trees, choosing the varieties either by their vintage or the glorious silliness of their names (Broxwood Foxwhelp and Brown Snout, for instance). He planned to make himself a simple basket press and produce enough cider to see him through the year.
Unfortunately, the first year of production was missed when Richard had an accident when making his press, resulting in a 3 day hospital stay and a prolonged period of being unable to walk! Things improved the following year though, and a bumper crop resulted in over 350 litres being produced.  Inspired by BBC's 'The Apprentice', Scott took some samples of their cider to The Bluebell Inn, Halkyn (winner of the CAMRA Cider Pub of the Year 2017), who agreed to stock them.  This gave the pair the confidence to continue, and they now deliver their cider and perry (pear cider) to many hostelries and restaurants across North Wales, and beyond.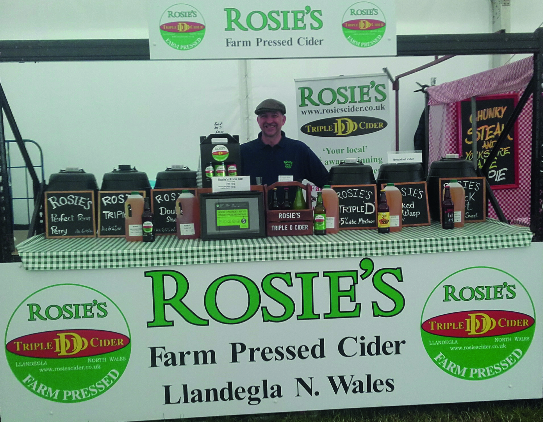 Rosie's Cider can be found in the rolling countryside of Llandegla, in Denbighshire. and was founded fourteen years ago by Steve Hughes, whose first serious attempt at cider making, using his own crab apples blended with other locally sourced apples, earned him a gold medal at his very first show, the CAMRA (Campaign for Real Ale) Bottled Cider Competition in Reading back in 2006.
Steve now grows over one thousand apple trees made up of 69 different varieties, and the cider is made by pressing fruit with no concentrate, water or fruit flavours added, to give a 100% full-juice cider, which is 'super slow fermented' over the winter months, and is usually ready by the end of May the following year. There are three award-winning ciders in the Rosie's stable: Triple D, Wicked Wasp and Black Bart, together with a perry, Perfect Pear, which are available at the on-site farm shop and local hostelries, and Steve also attends local food fairs and country shows.
In the name of further research, I took myself off to the Bluebell Inn, Halkyn, which serves both Dee Ciders and Rosie's, to conduct a taste test and to chat to the friendly landlord, Gary Jones. It was a busy evening, but I managed a quick word with Gary, who took over the running of the pub a couple of years ago and has carried on the tradition of selling only ciders from Wales, which, he tells me, continue to be popular.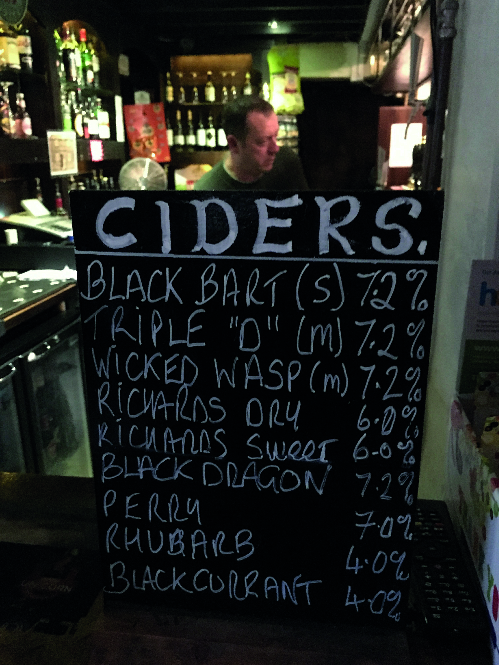 After perusing the cider blackboard, I plumped for the Dee Ciders Richard's Dry. Although this cider has a more complex taste than the widely available commercial brands I'm used to, I did enjoy it and found it dangerously moreish! In the interests of avoiding a hangover I decided not to try any more, but was assured by one of the locals that Rosie's Wicked Wasp is like 'drinking nectar' – in fact, he will only drink it while his wife is with him, as she keeps an eye on his intake!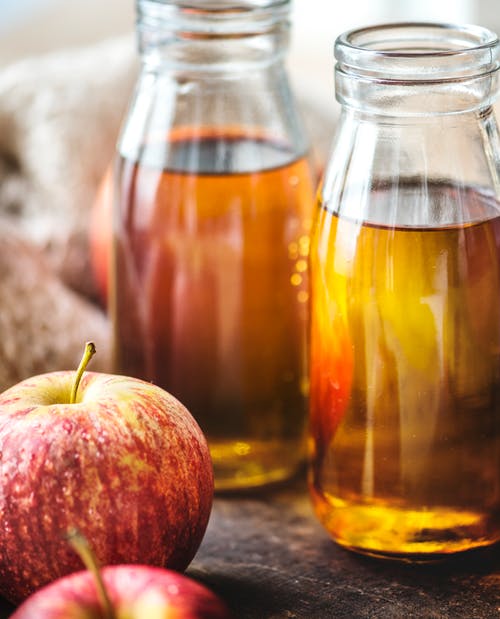 Thanks to this new wave of artisan producers, the tradition of cider making – which had all but disappeared in Wales by the 1970s – is enjoying a welcome revival, and the country is now one of the most important cider producing regions in the UK. In the words of Pete Brown and Bill Bradshaw, authors of the World's Best Cider Book: "Having lost its ancient tradition completely, Wales is now back on the cider map with a BANG!"
Please follow and like us: