The morning of Saturday 15th August 2020 dawned sunny and fine, perfect for my drive to Hope Mountain Bed and Breakfast and the watercolour workshop I had booked in for. Travelling through the quiet country lanes of Cymau, blowsy and voluptuous with the dark, deep green of high summer, I was really looking forward to my day.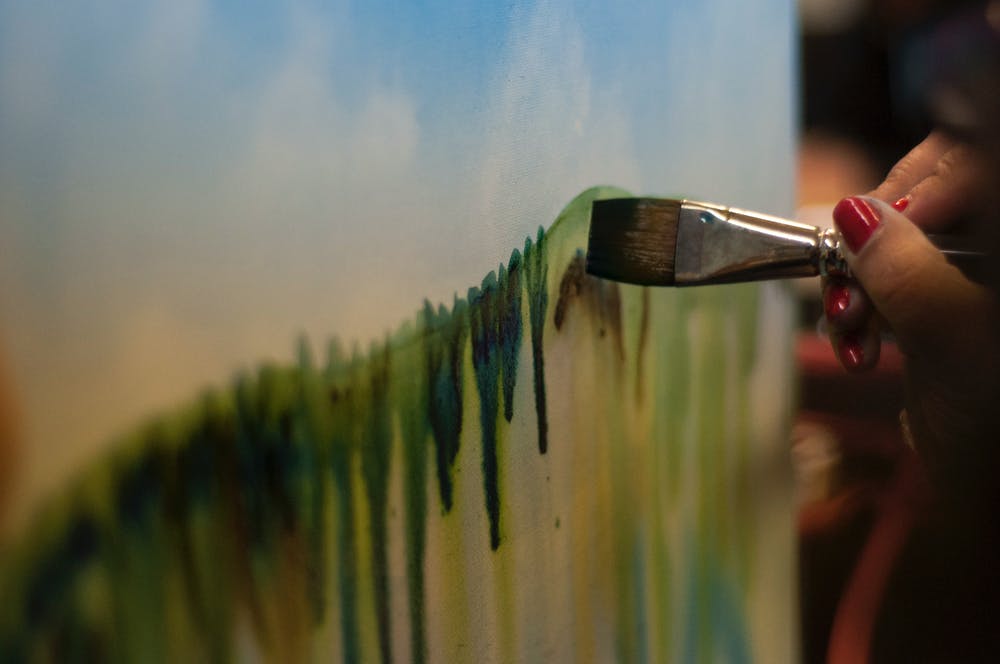 Hope Mountain Bed and Breakfast is set within the glorious Clwydian Range & Dee Valley Area of Outstanding Natural Beauty, and first began welcoming guests in 2008. However, the catastrophic effects of the Covid-19 pandemic on the hospitality trade earlier this year have forced owners, Rob and Jo Smith, to look at ways of diversifying their business while promoting and supporting other local businesses, an ethos which has always been very important to them. Having previously run cookery courses at Hope Mountain, the couple decided to expand on this idea, to celebrate the wealth of talent, fabulous produce and breathtaking countryside of North East Wales.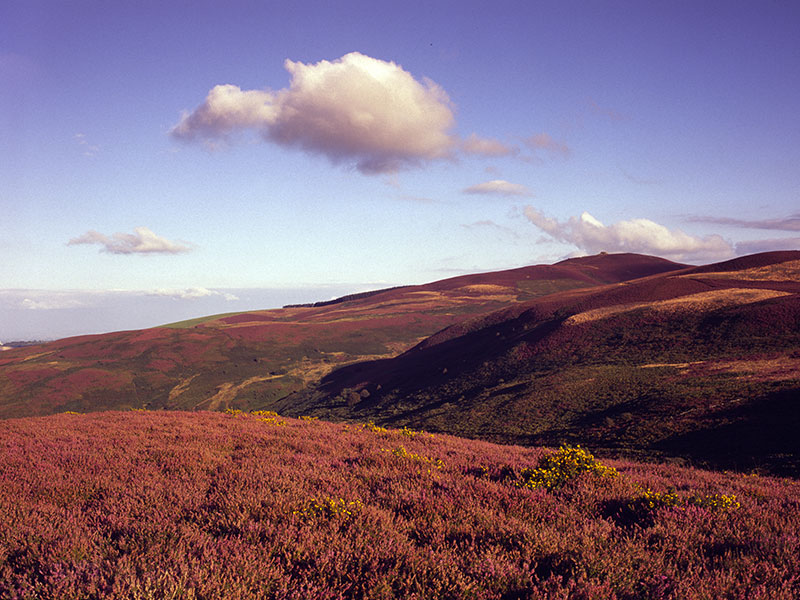 So here we were on this bright and sunny morning, being warmly welcomed by Jo with a choice of drinks and a plate of home-made flapjacks, sweet with local honey, before being shown to our individual workstations. These were situated beneath covered areas clustered around a scented courtyard brimming with blooms and herbs, their perfume, the sunshine and the soft, summer breeze lending a distinctly Mediterranean feel.
This workshop was run by accomplished local artist, Ann Williams (check out her Facebook page: Ann Willams Artist), whose work is inspired by the beautiful countryside of her home. Besides holding monthly art classes at Ffrith Village Hall (currently suspended due to the pandemic) Ann also undertakes pet portraits and other commissions, and her work can be viewed at her home studio by appointment, or at open studio events. Her work can also be seen on display at Tan yr Hall Gallery in Bala, where she enjoys helping out a couple of times a month, giving her the chance to meet people and to speak to them about her work.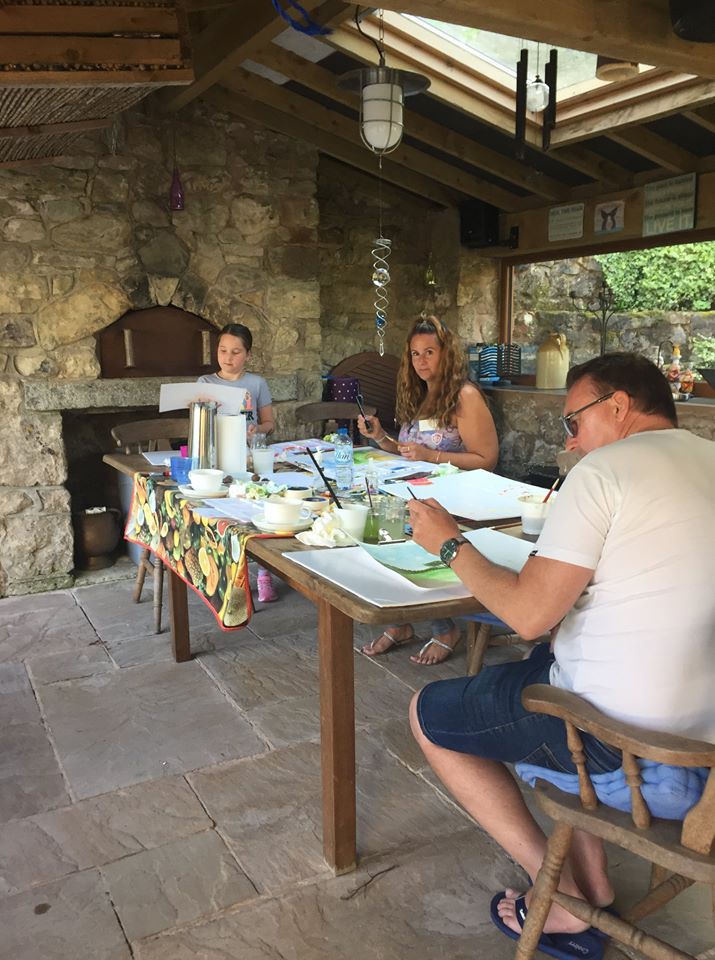 We began the day around a large table in the courtyard (socially distanced of course, by necessity of these strange times) as Ann introduced us to the properties of watercolour and gouache paints, demonstrating colour washes and the wet-on-wet technique we were to use on our own interpretation of one of her paintings, a vibrant and colourful scene of poppies in a cornfield.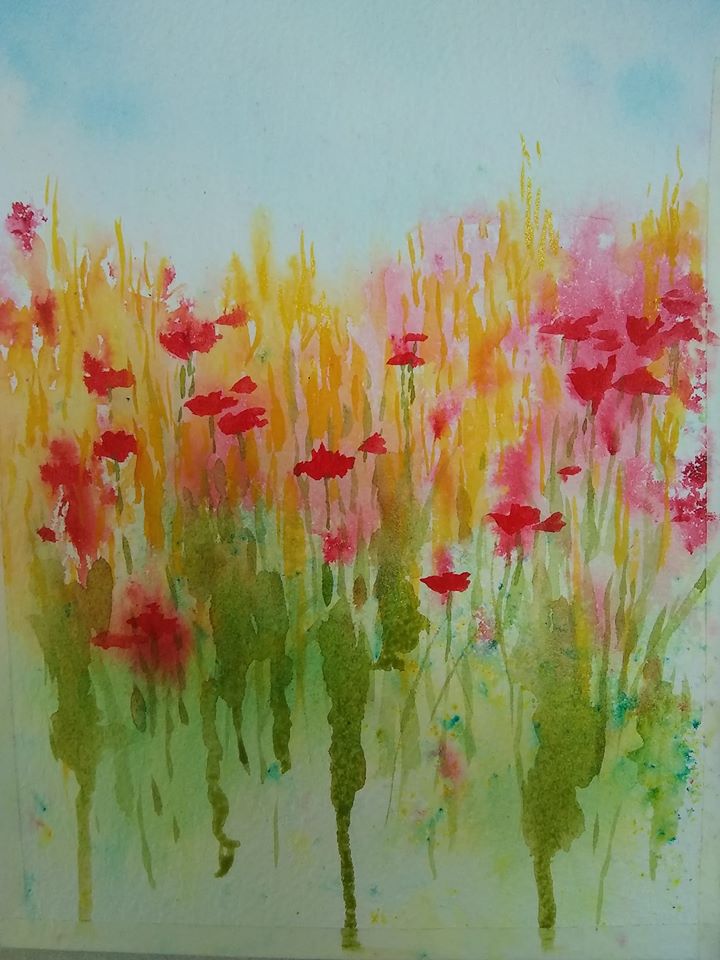 Engrossed as we were with creating our own mini masterpieces, lunchtime crept up quietly. We started with a summer vegetable soup, followed by a choice of quiches and flans, warm and fragrant from Jo's trusty Aga, served with sweet salad leaves and a choice of mouthwatering chutneys. All the ingredients used were locally grown and produced, and Jo's cookery skills provided the perfect showcase for the wonderful produce the region has to offer.
After lunch, we gathered again around the courtyard table to start our afternoon session, as Ann showed us a few different painting techniques, before we were given a choice of photographs to work from to try out our newly learned skills.  Soon, the only sounds to be heard in the courtyard were the gentle tinkle of paintbrushes against glass, the soft psst psst of water from our sprays (used to keep the paints wet), and the drowsy sound of bees bumbling from flower to flower in the fat laziness of this warm and languid August afternoon.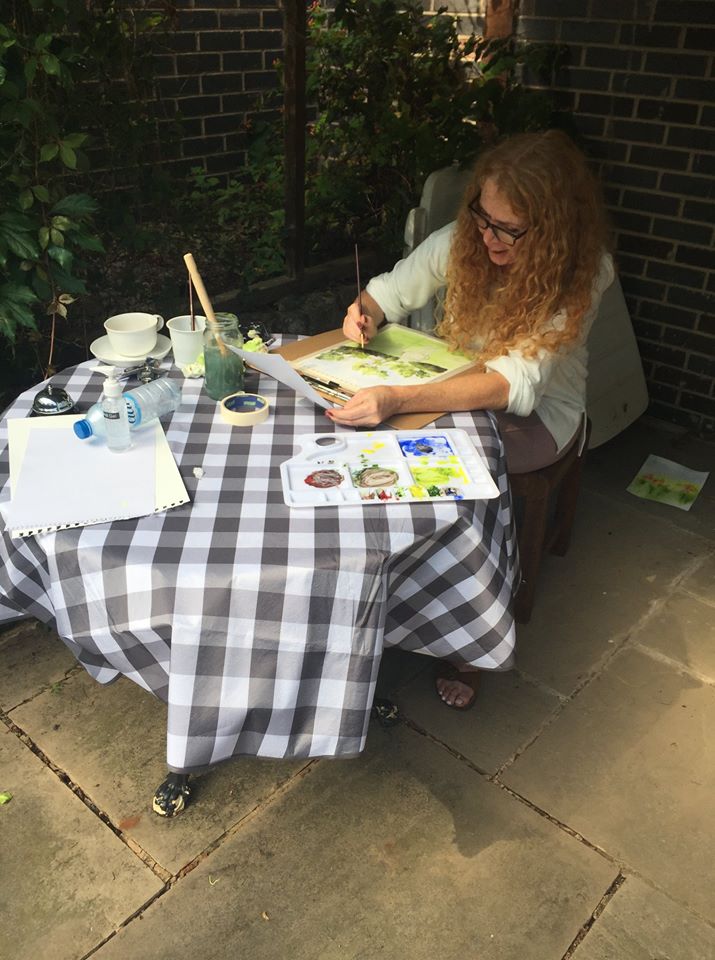 And so the day drew to an end, rounded off with more drinks and a selection of Jo's home-made sweet treats, and as a final surprise, we were all presented with a bar of locally produced chocolate, each one printed (in chocolate) with an image of one of Ann's paintings. Armed with the chocolate and our works of art, we bade each other a happy farewell and made our way home, having spent a magical day learning a new skill, making new friends and eating top-notch local food in this stunning part of North Wales.
Check >here< for up-to-date information on courses and other events at Hope Mountain Bed and Breakfast. Coming up soon: Watercolour Workshop on 19th September and Drawing from Nature (weekend course) on 16th – 18th October. Plans for a Wellbeing Evening are being finalised and it is hoped that this will take place towards the end of October this year.
Please follow and like us: